Berlin is regaining its splendor, after being ravaged by the Second World War and despite the division that created the Berlin Wall for 28 years. The city of Berlin is a great giant of history, which is reeling through great lengths to show off all its architectural beauty.
The Brandenburg Gate is one of the first attractions that every tourist should visit. This impressive portal represents the triumph of peace over arms. It was built in 1791 and has a height of 26 meters, its style was inspired by the buildings of the Acropolis of Athens. In 1795 added on top of the building is a statue of the Goddess of Victory in a chariot drawn by four beautiful horses, this statue suffered the consequences of the Second World War and was completely destroyed. An exact copy was created in West Berlin and was placed in 1969. Pass under the arch represents the glory and this step alone was reserved for royalty.
Currently the Brandenburg Gate is a major attraction in central Berlin, where travelers take advantage of the splendid background for stamping some images. Every visitor has the opportunity to rent apartments in Brandenburg thus to have the ease of traveling the other tourist attractions that are located nearby and offers this historic city, such as:
Pariser Platz which is one of the main squares of Berlin, located in front of the Brandenburg Gate, to this day remains the same style since its construction.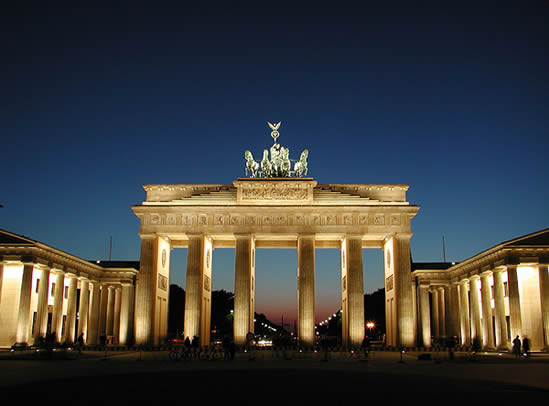 A mandatory stop is the Potsdamer Platz, which is one of the busiest squares in Berlin, has hundreds of shops and offers countless exciting activities for all tourists. This square was completely modernized and promoted mainly by architects to conduct there business all aimed at tourists. When climbing one of the tallest buildings in Potsdamer Platz located have access to one of the most amazing panoramic views of the city through the viewpoint known as Panoramapunkt found on Alte Potsdamer Strasse street.
Sonny Dome located west of the square is characterized by a huge dome made of glass and steel, illuminated by changing colored lights where terraces are distributed and upscale restaurants.
The area of Daimler Chrysler is a garden that gives an alien a moment of relaxation through its beautiful gardens.
For those fans of the film can be found at the Potsdamer Platz is the Berlin Film Festival or colloquially known as Berlinale.